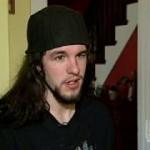 2 Men Charged With Conspiracy For Their Roles In Tattooing Incident
CONCORD, NH — A Concord man accused of watching his friends tattoo a 14-year-old against his will pleaded not guilty in court on Tuesday.
Travis Johnston, 18, of Concord, was arraigned on charges of conspiracy to commit endangering the welfare of a minor, and criminal liability to conduct of another.
Another Concord man charged in the case, Donald Wyman, 20, waived his arraignment on similar charges.
Mug Shots: Teens Charged After Tattooing Incident
On May 10, the ninth-grade victim left Concord High School for three hours and went to Johnston's home, where the tattoo was done a weight bench in the basement, according to police.
Johnston and Wyman are accused of watching two of their friends, Blake Vannest, 18, and Ryan Fisk, 19, both of Concord, give the boy the derogatory tattoo on his rear end.
Suspect's Mom: Son's Swastika Tattoos 'Horrified Me Most'
Johnston said in an interview with News 9 following the incident that he blamed himself for letting it take place in his own home.
"Before I got in trouble, I regretted it," he said. "I wish it never happened."
Police said in exchange for getting the tattoo, the boy, who they say is intellectually challenged, was promised he would no longer be bullied at school.
In an interview with WMUR News 9, the boy's parents said the four people charged in connection with the incident should have to pay for the removal of the tattoo and undergo some counseling.
Vannest and Fisk face several charges, including tattooing without a license.
Johnston, Wyman and Fisk are free on bail. Vannest is still behind bars.