School Bullying Addressed At Dept. Of Education Summit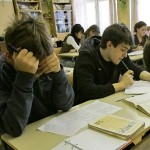 The Department of Education holds a two-day summit to formulate a national plan to end bullying in schools.
School starts for the majority of the country this month, and while students are getting ready to head back to class, the Department of Education is focused on stopping a classic problem — bullying.
Over the last two days, the DOE convened the first-ever summit on school bullying.
Leaders attending the conference tasked themselves with developing and implementing a national strategy that reduces and eventually ends bullying.
"Our department has a renewed commitment to enforcing the law, including civil rights law that applies to racial, sexual or disability harassment," said Education Secretary Arne Duncan.
Duncan also says bullying distracts from the fundamental purpose of school — learning — and feels that most people don't realize that bullying violates civil rights laws.
"I'm not sure that many educators and parents realize bullying can constitute racial, sexual and disability harassment that is prohibited by civil rights laws enforced by our department's Office of Civil Rights," said Duncan.
In a National Center for Education statistics study, just less than a third of students, ages 12 to 18, reported they have been bullied in school.