By AAyles on September 30th, 2010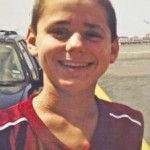 Asher Brown was a 13-year-old boy who, like most young boys, enjoyed reading, playing outside and hanging out with his dad. His mom said he seemed sad and withdrawn in the months leading up to his suicide this week and most of his sadness was contributed to bullying at school.
Asher's parents say that their son was bullied at school for countless reasons. In addition to being gay, their son was bullied for being small, not wearing name-brand clothing, not using iPods and choosing to read instead of listening to music. "He wasn't interested in those things," said his parents in an interview with CNN today. "We could have bought it for him, we asked him if he wanted them and he said no, there are more important things."
Asher shot himself in the head after almost 2 years of bullying. He told his parenst he was gay the morning of his death. 
The young boy's parents are speaking out in hopes of raising awareness to issues like bullying in schools. They insist they reported the issue to Asher's school but the school denies any reports of bullying with Asher, or any other student in the school.
Suicide as a result of bullying in teens and young children is becoming more and more of a problem. In the last 3 weeks, 3 young boys (Asher, Tyler Clementi and Seth Walsh) have committed suicide as a result of bullying.
If you think your child may be a victim of bullying, talk to them and take appropriate actions.
"Please if you have children that you think may be bullied, if they seem sad or withdrawn and you ask questions and they say 'I'm fine' push past that. Push past the 'I'm fine,'" says Asher's mom in the exclusive interview. "It's extremely important. These kids are worried about retribution for speaking up. Not only speaking up for themselves but for their friends that are getting picked on."
3 boys in 3 weeks. When will this end?