Sue Loughlin The Tribune-Star The Tribune Star
TERRE HAUTE — When high school students talk, middle school students listen.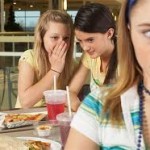 That's why a group of 84 Terre Haute North Vigo High School student leaders visited three middle schools Wednesday morning, part of a bullying prevention initiative.
Announced last week, it's called HERO, which stands for Helping Everyone Respect Others.
The high school leaders went to Chauncey Rose, Woodrow Wilson and Otter Creek middle schools.
At Wilson, small teams of high school students visited each advisory class. In one, North senior Marlin Hill led the discussion.
When someone is bullied, the simple act of being a friend could save that person's life, Hill told a group of eighth-graders. 
"As eighth-graders, you guys are kind of the head honchos of the school," Hill said. "You have the sixth- and seventh-graders looking up to you."
He urged them to take the lead by respecting others, being a friend to those who need one and stepping in when bullying occurs. Stepping in might be a matter of contacting an authority figure, such as a teacher or dean, either when the incident happens or afterward.
"I'm asking you not only now but in the future to respect other people and be a friend because you could be the deciding factor between someone taking their life and leaving this Earth," Hill said.
Hill was joined by North students Brooke Humphrey and Anna Potter. Hill and Humphrey are Link Crew leaders, while Potter is part of the A-team.
The sessions, less than 30 minutes, also included activities and statistics. Students talked about different types of bullying, which can include physical, mental and cyber bullying.
The North students cited a statistic that 8 percent of students miss one day of class per month for fear of bullies.
"Can you imagine missing class because you feel like if you were to walk into a school, no one there is going to respect you?" Hill asked.
Socially isolating someone also can be a form of bullying, and so is spreading rumors, he said.
When the middle school students were asked what they would do if they were bullied, one responded he would tell his closest friend, while another said he wouldn't tell anyone.
The middle school students also were told that if they wanted to report bullying but feared repercussions, they could talk privately to a school authority figure, and their confidentiality would be protected.
Afterward, Wilson eighth-grader Allison Crick thought the anti-bullying program "was really good because they are high schoolers and we all look up to them."
Wilson student Ashaun Miller believes the high school students' visit will reinforce to middle school students that they can take steps to prevent and stop bullying.
Miller said he would step in if he witnessed bullying. If someone is afraid of being labeled a snitch, they can tell a teacher or dean privately, he said.
This week kicks off the HERO anti-bullying campaign, organized by several middle and high school administrative interns. The project is aimed at middle school students but involves high school student leaders.
In the near future, student leaders at South Vigo and West Vigo will work with their respective middle schools, said Joe Thoma, spokesman for the principal interns group that developed HERO.
This week, middle school teachers have been showing anti-bullying videos, and today, they are expected to conduct additional classroom activities.
Friday will be "big blueout day," and middle school students will be asked to wear blue and they will be given blue "I am a HERO" wristbands. Blue is the color being used in national anti-bullying campaigns, Thoma said.
Wednesday's sessions did lead to some open discussions, Thoma said. A few middle school students who say they have been bullied shared that information with the high school leaders.
The information was provided to counselors or other school officials so that those middle school students will receive the help they need, Thoma said.
The middle schools have HERO boxes, where people, including school employees, can nominate students who have stopped or prevented bullying.
The Vigo County School Corp. website also has a HERO link where bullying incidents can be reported. The site also includes an anti-bullying brochure.