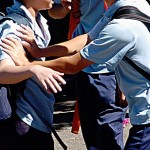 A 14-year old boy in Concord, New Hampshire; a victim of constant bullying, now bears a lewd tattoo on his buttocks as a result of the bullying.
The 14-year old has developmental issues, and was frequently picked on both in school and in his neighborhood. According to the Concord Monitor, the boy was forced by five young men, ranging in age from 15 to 20 years old, to kneel against a weight bench in a dimly lit basement at the home of one of the five boys, while the words "Poop D–K" and a purported drawing of a penis were tattooed on his buttocks. He was threatened with genital assault if he didn't comply, and told all bullying would stop once the tattoo was completed.
Law enforcement officials in Concord, New Hampshire have charged each of the five boys involved. The older ones, 20-year-old Ryan Fisk and 18-year-old Blake VanNest have been charged with six misdemeanors, including tattooing without a license, criminal threatening and breach of bail for a separate incident. Fisk has also been charged with indecent exposure. Travis Johnston, 18, and Donald Wyman, 20, have both been charged with endangering the welfare of a child. The 15-year old involved will be charged in juvenile court.
Of the five young men involved, only Travis Johnston has come forward and apologized for his role in the crime.
School officials warned students that any bullying with regard to this case would be dealt with harshly. Upon returning to school on Monday, however, the 14-year old was once again bullied. Students taunted him, using the words that were tattooted on his buttocks. His parents have now removed him from Concord High School for the remainder of the school year and are requesting school officials provide a tutor.
How far will our society allow bullying to go? What kind of message does this send to people? If the young men involved in this crime receive mere slaps on their wrists, this kind of criminal activity will certainly escalate.
It pains me to think of any child being bullied, but those with any kind of developmental delay adds even more insult to injury. Those who take advantage of children with lesser or differing abilities are no different than grown men and women who prey on innocent children. I hope they are prosecuted to the fullest extent of the law, and if that isn't enough I hope legislators will work to intensify the penalties for those who participate in any form of bullying.