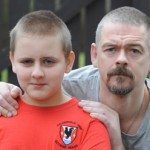 A SCHOOLBOY says he is being driven to suicide by cruel bullies' sadistic attacks.
Stewart Collins, 12, was held down by four other pupi s and had his ears rubbed with sandpaper until they bled in one assault.
And at a crisis meeting with senior teachers, Stewart told them he is suicidal because of the campaign of hate, fuelled in part because he is originally from England.
Stewart Collins has been subjected to cruel taunts at Caldervale High in Airdrie, Lanarkshire, for months.
But his tormentors have stepped up their campaign with physical attacks.
And Stewart has begun to self-harm, hitting his head off walls and scratching himself because he is so traumatised by what has been happening and what he fears will happen in the future.
Now his desperate mum Sara, 43, and stepdad Robert Warren, 45, have taken him out of school.
Last Monday, Sheff ieldborn Stewart, who moved to Scotland with his family four years ago, was targeted as he walked home near a road.
He was pushed to the ground and had his satchel thrown in front of a car.
Stewart said last night: "I told the teachers I don't trust them because they say they will get it to stop but it never does.
"I can't sleep at night because I don't know what is going to happen next."
Robert said the school had refused to get involved in Monday's attack because it did not happen at school.
He said: "Stewart is called an English b*****d and ridiculed at every turn.
"And we don't know the full extent of it. It just can't go on."
Robert said two boys and two girls have been bullying Stewart but his request for them to be removed had been rejected.
He added:"If they won't remove the bullies then they will need to supply a tutor."
North Lanarkshire Council said: "We are aware of this case and are in discussion with the family."