Written by
Andrew Scherer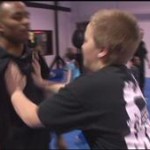 St. Peters, MO (KSDK) – Bullying among children and teens is being called an epidemic by some. President Obama, even released an anti-bullying message after several suicides among youths were reported last fall.
A world champion fighter from St. Charles County is trying to kick this problem. Jermaine Andre runs Andre's MMA Academy in St. Peters.
"MMA" stands for mixed martial arts. You've probably seen those cage match fights on TV featuring two people using all sorts of different techniques like hand to hand combat, kicking and other moves.
Despite the violent nature of the sport, Andre says it's the perfect sport to curb bullying.
One of his students, Travis Callahan, 13, says there was a time he used his size to bully others in school.
"I had a little group, we go around picking on other kids," said Callahan.
But that's in the past, now he's a teen with manners.
Alex Dobson says there was a time when he was bullied in school, a kid with low self esteem. But now, he's a confident person.
He has just made a 180, he's going down the right road," said Dobson's mom. She adds Alex has drastically changed since she enrolled him in the classes.
Andre says the anti bullying message doesn't come in the fighting, rather the training.
"We teach you how to protect yourself, we teach you how to stay calm, teach you how to think correctly, teach you how to be respectful," said Andre.
He's combining those teachings into a two hour anti-bullying class for kids ages five to 12.
"I'm here to teach you on how to not be bullied and how to not become a bully," added Andre.
He designed the program with help from a panel comprised of parents, an MMA fighter and a police officer. The two hour class talks about reporting bullying behavior to an adult and avoiding confrontations. The kids meditate and learn self defense techniques.
"I'm not teaching kids to hit and hurt, but I am teaching them if someone grabs them in a chokehold how to get lose," said Andre.
He promotes his class does two things: builds confidence and gives the kids a sense of belonging to a group where they're respected. He also doesn't want to know if the kids in his class are bullies or the one's being bullied because he says that gives them a label.
"The guy who is the bully, we can still save him, 'look man, you have all this strength and all this power, you should be leading and helping people instead of trying to hurt and destroy people. You can be somebody, you mean I can be somebody, yeah, and now we are going to show you how," said Andre.